Texas Forms Well Data Import Window
This window is accessed from the Well / Project Manager Window by selecting File > Import Well Data…
The Import Window allows you to import well information and well test data from tab delimited text files.
Step by step import process: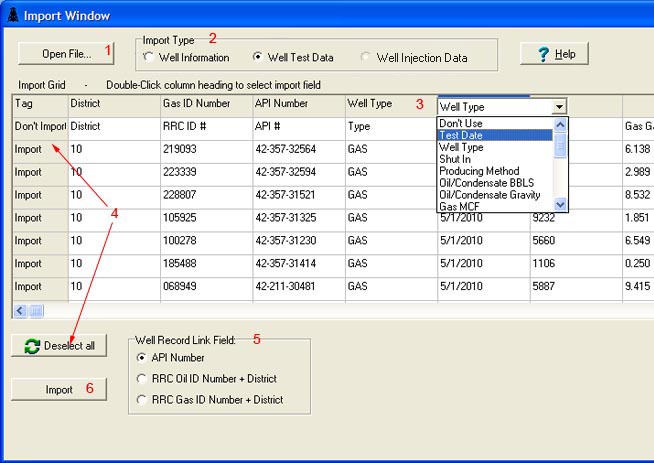 Press the Open File… button and select your file.

The contents of the file will be displayed in the Import Grid.

Select Import Type.

Well information is imported to create well records in the database.

Well Test and Injection Data is imported and linked to the well records in the database.

Designate Column Data.

Double-clicking on a column header displays a drop-down box with all the available import fields.

Select the type of data that is contained in that column.

Repeat this for all of the columns containing data you want to import.

Select Import Rows.

You need to select which rows you want to import.

Pressing the Select All button toggles the selection displaying either "Import" or "Don't Import" in the far left column.

You can double-click on the far left column to selectively toggle individual rows

Well Record Link Field.

When importing Well Test Data you need to designate how you want the program to link the test data to the well records in the database.

Your options are API number or RRC ID number and District number.

When using the second option your file must contain either oil or gas well test data, not both.

Import.

Pressing the Import button starts the import procedure.

First data is validated and second it is imported.

If all the data passes validation the process starts creating well test records otherwise the process will pause and give you the option of stopping and reviewing why the validation failed.
Validation. Rows failing validation are highlighted with yellow. The individual cell that fails is highlighted with olive. Positioning your mouse over the olive cell will display a hint describing why it failed validation. You have two options at this point.
You can correct the errors in your text file and then open the file again.
You can press the Import button again.

This time when the import fails validation you can proceed with the import.

Rows that passed validation will be imported.
Importing Well Test Data. During this step, the process looks for matching well records based upon the Well Record Link Field. Rows containing test data that is imported are highlighted in green. Rows that are not imported are highlighted in red. Rows are not imported for one of two reasons:
A matching well record was not found
Duplicates well records were found
See Also:
Well Information Data Import Fields
Well Injection Data Import Fields